Profile

Dr Lachlan Campbell
You can't survive without music or blood...
Free Account
Created on 2013-04-18 13:43:45 (#2003625), last updated 2013-04-25 (230 weeks ago)
769 comments received, 295 comments posted
272 Journal Entries, 69 Tags, 0 Memories, 100 Icons

About

Mini Bio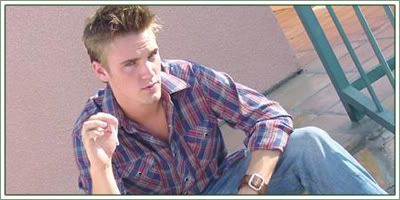 Dr Lachlan Campbell
Birthday:
12th April
Marital Status:
Married
Family:
Wife,
Dr Tara Campbell
, and one son, Riley Patrick Campbell
Occupation:
Doctor of Medicine (Haematology) working Diagnostic Medicine, Trauma Victims Counsellor at Mount Sinai Hospital in NYC
Sexuality:
Straight
Likes:
Music, guitar, Scotch, kilts, bagpipes, sex, girls, dancing, singing, extreme sports, energy drinks, Scottish football
Dislikes:
Homophobes, boats (he gets seasick), flying, messy handwriting, bad Karaoke singers, English football
Personality

Lachlan has a happy and humorous personality. He likes to have a joke and has no issues with being at the expense of other people's amusement, growing up often the brunt of his best friend, Patrick's, practical jokes. Lachlan lives a laidback life; so long as he has his music, his guitar, and his family, he's happy. It takes a lot to phase Lachlan, and he has a head to stay cool in a crisis. He keeps an active social life, drinks, though not heavily, and indulged in smoking until he mostly quit when his wife, practising Oncology and highly aware of cancer, asked him to stop. He still does it socially on occasion or when he's stressed, and Tara just turns a bemused blind eye.

Lachlan was a known flirt in the past until he settled down, and enjoys company. People have often commented on the similarities Lachlan and Patrick often exhibit in their personalities, though Lachlan was always much more calm and less excitable than Patrick. Despite leaving Scotland at the age of 12, Lachlan never lost his accent, and this can see fierce Scotland versus England debates between the two friends.

Lachlan is straight, and had no particular tastes in women, just so long as they know how to laugh and have a good time. Until he met Tara, who changed everything. Previously, he was certainly not famous for having serious relationships, his longest only lasting about a year which ended badly when he found his girlfriend cheating on him in their bed. His parents always said they would love nothing more than Lachlan to settle down, get married, and reproduce, but Lachlan didn't see the point if he had clearly not met the perfect girl. He believed in fate and knew when the time was right, he'd fall in love and know she was his soul mate. It seems his prediction were right when he met and fell heavily for Dr Tara Brennan shortly after arriving in Princeton.
Background
Born, bred, and raised in Edinburgh, Scotland until the age of 12, Lachlan thinks there are no finer things in life than kilts, Scotch Whiskey, and bagpipes. He was taught to play the latter by his father at a very young age, but as his interest in music grew extensively as he got older, Lachlan began playing the guitar and singing and now cannot live without music in his life in some capacity. He played for a band in high school, and did gigs at a local pub to see him through Med School. His number one relaxation tool is to sit at home with a glass of Scotch and jam on his guitar.
At 12, Lachlan - an only child - and his parents had to make the move to London when his father landed a job writing for one of London's top newspapers. Lachlan had hated the new city at first, and although his likeable and happy nature had never left him without friends, he was worried he wouldn't fit in. It was his first year in the new London High School that crossed his path with
Patrick Preston
. The two became inseparable and were a force to be reckoned with. Both were very similar in nature - save for the distinct difference that Patrick was gay and Lachlan was straight - and they used to cause their family and friends any number of headaches with the messes they used to get themselves into.
Lachlan had been with Patrick in Las Vegas following their High School graduation and had been the one coax Patrick into finally submitting his applications for a college position in America as a laugh. Both had never really thought deep down that Patrick would get accepted, but when he did, Lachlan had been stunned. He had already been accepted into the Med School at Edinburgh University and Patrick had plans to do nursing there also at some point. It never happened. Patrick had chosen to go to America to study and Lachlan stayed on in Britain to get his degree and specialty in Hematology. They both kept in touch regularly and caught up on Patrick's many trips home, but it hadn't ever been the same and Lachlan had missed his best friend dearly.
Lachlan soon began to consider moving to America also to practice and it had been nothing but a mere coincidence that had sent his CV to Princeton Hospital. At the time, Patrick had still been firmly ensconced in his Virginia job and hadn't even mentioned a move. Lachlan had character reference from Patrick attached to his application, which indicated an intriguing link to the Nurse Practitioner. When Lachlan got the call about an opening for a Hematologist at Princeton Hospital, he'd jumped on it and was astounded to be accepted in the position with very little need to promote himself, but excited he was finally going to be near his best friend again after so many years.
Here & Now
Lachlan is married to fellow doctor,
Tara Campbell
(nee Brennan) and they live in Bedford, New York. They both work at Mouth Sinai Hospital, Tara as a Senior Attending Oncologist, and Lachlan as a Hematologist in the Diagnostic Medicine department. He also is a casual trauma victims counsellor, which he trained in in the wake of his own traumatic experience. They met for the first time at a Karaoke bar in Princeton, Tara already an Oncology resident at the hospital Lachlan started to work in, and after evidently clicking from the word go, Lachlan kissed her out of the blue on the steps of the bar. Stunned by the connection she seemed to have with this new (and rather hot) mysterious Scottish doctor, Tara did the only thing she could - she ran and left him standing alone on the steps. Recently diagnosed with Type I Diabetes which she had been seriously ill from, Tara was worried she came with too much baggage but Lachlan wasn't about to give up that easily. From then on, their relationship could only be described as a comedy of errors. Whenever they encountered each other, it led to a heated passionate embrace with both wanting just as a much as the other to tear each other's clothes off and make to the nearest horizontal surface. But despite their chemistry, they continuously suffered classic and horrific coitus interruptus. It was close to two months after they met that they finally managed to do the deed when Tara decided to grabs the balls by the hand (literally) and turned up on Lachlan's doorstep in nothing but a trench coat and red underwear underneath that left nothing to the imagination. They didn't make it to bed, but they did complete the deed and debauched the foyer of his apartment.
While they fell for each other heavily, their relationship came with it's own fair share of rocky roads. Lachlan's past saw a pregnancy scare between the two nearly lead to them splitting up, shortly followed by Lachlan landing himself in hospital for an emergency appendectomy. Despite their tough times, they pulled through and on December 11th 2007, Lachlan got down on one knee in front of three hundred people at his best friend's birthday party and proposed to Tara with a very impressive Tiffany rock. She happily accepted.
Unfortunately, things took an horrific turn for the worst a few days later when Lachlan was shot in the hospital car park. The shooter, the sister of one of Lachlan's patients who had developed an obsession with Lachlan to the point she was stalking him, was aiming for Tara to shoot her out of jealousy, and Lachlan reflexively jumped in front of her and took the bullet. He was in a coma for three months and upon waking, learned that a complication with the surgery to remove the bullet left him infertile. Together, they were left to pick up the pieces following the tragedy.. It wasn't easy and Lachlan's rehabilitation following the ordeal was long and arduous. It took a lot to adjust to the fact Lachlan couldn't have children, and they began to accept it, grateful they were both just lucky to be alive. On the 10th May 2008, Lachlan and Tara
got
married
at Skylands in New Jersey surrounded by hundreds of their family and friends from all over the world. It was an amazing day, even if Lachlan was still working like a trooper with his recovery and getting back on his feet. He didn't want to wait to marry the love of his life, so his loved ones made sure it happened for them.
The biggest shock came to them when, out of the blue, Tara discovered she was pregnant. It was near impossible to explain, except that Lachlan's extremely low motility following the accident obviously produced one hell of a determined swimmer. It was a shake-up after they had just gotten used to the fact they couldn't have children, and with Tara's diabetes, the pregnancy was a difficult one. She was ill a lot of the time and ended up on bed rest at the tail end of it. There was a constant fear she could lose the baby, but on Christmas Day 2007, right before the family sat down to the big Christmas dinner, Tara went into labour and
welcomed their first child just before midnight on Christmas Day
, a son, Riley Patrick Campbell.
On the eve of their fifth wedding anniversary, Tara, Lachlan and Riley now live in Beford, New York City, where they moved not long after Riley was born when they found the house of their dreams. Lachlan wanted to use his compensation money from the shooting to build a recording studio attached to their home, and the house they found had been perfect. Despite being born with diabetes which he was diagnosed with as a tiny infant, Riley has grown into a healthy wee boy and the complete apple of his mum and dad's eye. He's their pride and joy, but they have never managed to fall pregnant with a second and all the tests Lachlan has gone through still show him clinically infertile. Riley is the picture of his dad, and the young family couldn't be more content, despite their difficult and painful past.
Disclaimer
This is an RP journal for character Dr Lachlan Campbell, an original character. All rights and written entries by
scottishpride
is original work and owned by her creator. No profit is being made. Journal and character is for roleplay and enjoyment purposes only. Lachlan is portrayed by actor/musician Riley Smith and is in no way affiliated to Riley Smith.
* ICON CREDIT: All icons are made by a friend for this muse, or located on wikicon.
Layout Codes » Dream Like New York » Dr Tara Campbell

People
[View Entries]

Communities
[View entries]

Member Of (5):

Subscriptions (5):

Administrator Of (1):

Feeds
[View Entries]

Subscriptions (0)

Linking
To link to this user, copy this code:
On Dreamwidth:
Elsewhere: